ZJ30 Oil Gas Drilling System in Production
We received an order of ZJ30 mud circulating system from old customer at the early of April. Now it's in intense production in our workshop.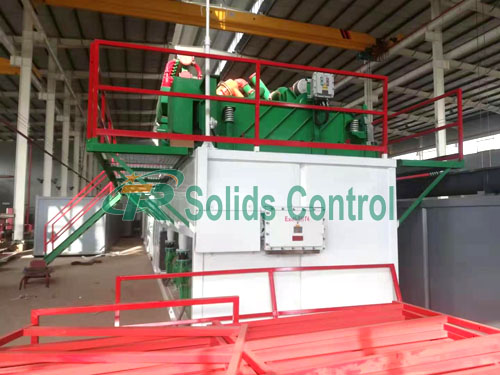 Introduction:

Oil Drilling Mud System is a kind of a multi-tank mud system, it is also called solids control system, or mud circulation system for the oil gas drilling rigs. Our TR oil drilling mud system is available for different oil drilling rig sizes from 250HP to 3000 HP with different capacity. With complete five phrase purification equipment shale shaker, vacuum degasser, desander, desilter, decanting centrifuge, TR oilfield solids control system ensures good and efficient treatment effects of removing solids particles and gas bubbles in oil and gas drilling fluids. We design and customize detailed technical drawing of the system according to clients' special requirements and drilling site application.

TRZJ series mud system can be designed to meet different kinds of conditions in oil and gas drilling field. It has a good performance of cold-resistent, high temperature resistance, anti-explosion, anti-leakage, anti-corrosion, raining proof, adapt to wicked condition of well drilling. It's very popular among big oil drilling companies.

Features of TR Oil Drilling Mud System:
Compact structure system for space limited area.
Harmonious and functional mud tank layout for practical application.
Trailer mounted mud system for flexible utilizing need.
Energy saving efficiency is significant since the power consumption of the vibrating motor is low.
The polyurethane screen has many advantages such as easy operation, low trouble rate, convenient installation and maintenance.
Winterization frame and heating manifold installed with mud system to keep mud performance in extremely cold area.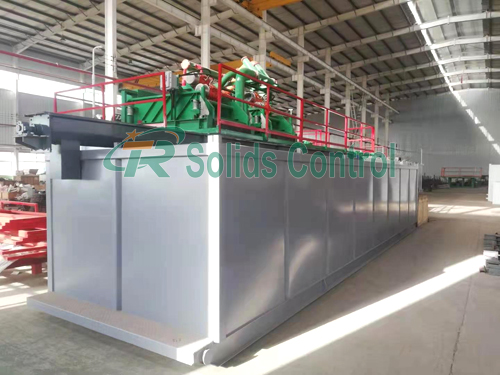 Main Specification of TR Oil Drilling Mud System:

| | | | | | | |
| --- | --- | --- | --- | --- | --- | --- |
| Configure Equipment | ZJ70 | ZJ50 | ZJ40 | ZJ30 | ZJ20 | ZJ10 |
| Mud Tank | ≥270m³/h | ≥200m³/h | ≥180m³/h | ≥160m³/h | ≥160m³/h | ≥80m³/h |
| Storing Tank | ≥160m³/h | ≥120m³/h | ≥80m³/h | ≥80m³/h | × | × |
| Shale Shaker | ≥360m³/h | ≥280m³/h | ≥240m³/h | ≥180m³/h | ≥140m³/h | ≥80m³/h |
| Vacuum Degasser | 360m³/h | 300m³/h | 240m³/h | √ | √ | × |
| Desander | ≥320m³/h | ≥240m³/h | ≥200m³/h | ≥180m³/h | ≥120m³/h | √ |
| Desilter | ≥320m³/h | ≥240m³/h | ≥200m³/h | √ | × | × |
| Middle Speed Centrifuge | 50m³/h | 50m³/h | 40m³/h | √ | √ | × |
| High Speed Centrifuge | 40m³/h | 40m³/h | √ | × | × | × |
| Jet Mud Mixer | ≥300m³/h | ≥240m³/h | ≥200m³/h | ≥180m³/h | ≥120m³/h | ≥80m³/h |
| Shear Pump | ≥120m³/h | ≥120m³/h | ≥120m³/h | ≥120m³/h | ≥100m³/h | × |
| Charging Pump | ≥240m³/h | ≥200m³/h | ≥180m³/h | ≥150m³/h | ≥100m³/h | × |