Tag Archives:
Vacuum Degasser
Vacuum degasser is a special-purpose device and a new type one for gas treatment in drilling fluids. This unit is positioned downstream from mud cleaner, shale shaker and mud gas separator, while hydrocyclones and centrifuges follow in the arrangement. On Mar.31th, the production and loading of TRZCQ270 vacuum degasser was completed in our factory. Along with it, our client also ordered spare parts for two-year operation.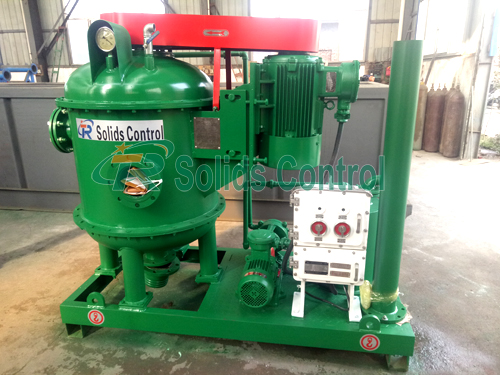 This vacuum degasser will open up the Indian market as a sample for our customer. As the famous trading company, they would like to try other models for end user in oil and gas drilling field. Processing capacity of this unit is 270m3/h(1188GPM). Body diameter is 800mm with vacuum degree -0.03 to -0.045Mpa. Its degassing efficiency can be more than 95%. Transmission ratio is 1.68. It's matched with one piece vacuum pump with power 3kw. Main motor power is 22kw up to explosion-proof standard. The unit has no moving parts and rely on the density difference between the gas and the mud for removal. The process is simple, yet very effective for well.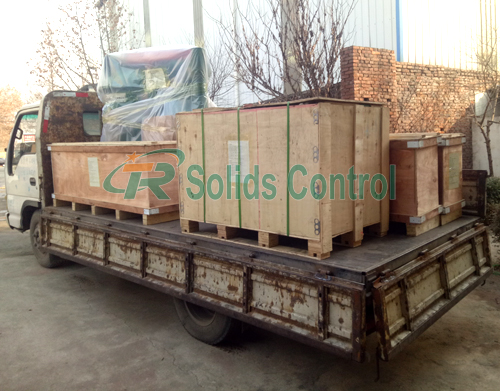 We are a professional and well-known manufacturer of solid control system and equipment, drilling waste management in china. Currently our products have been exported to Russia, America, Middle East, South America, Southeast Asia, Central Asia, African, Australia, Europe etc. We will provide our clients high quality products with most reasonable price, meanwhile we also sincerely offer high level after sales service for any home or abroad clients. You are welcomed to consult or visit us any time.
Degasser Principle
Degasser is used to remove gas from gas-invaded drilling fluid to ensure the relative stability of drilling fluid performance and the normal operation of cyclone. The degasser is divided into two main categories: Atmospheric and Vacuum.
Atmospheric degasser uses centrifuge to suck air into the mud, and uses centrifugal force to make the mud spray and impact the inner wall of the spray tank, so as to release the gas.
Vacuum degasser takes advantage of the suction action of vacuum pump to form negative pressure in vacuum tank. Drilling fluid enters hollow shaft through suction pipe under the action of atmospheric pressure. Then the umbrella sheet assembly around the hollow shaft is jetted to the wall of the tank. The gas escapes through the vacuum pump and draws side-by-side to the safety zone.
Structure
Features and Benefits(TR Brand Vacuum Degasser)
High degassing efficiency;
Do not need supply pump;
Selecting infrared liquid level monitoring system;
Schneider or Siemens electrical components.
Parameter
Model
TRZCQ240
TRZCQ270
TRZCQ300
TRZCQ360
Body Diameter
700mm
800mm
900mm
1000mm
Capacity
240㎥/h
270㎥/h
300㎥/h
360㎥/h
Vacuum Degree
-0.03~-0.045MPa
Transmission Ratio
1.68
1.72
Degassing Efficiency
≥95%
≥95%
≥95%
≥95%
Main Motor Power
15kW
22kW
30kW
37kW
Vacuum Pump Power
2.2kW
3kW
4kW
7.5kW
Impeller Speed
860r/min
870r/min
876r/min
880r/min
Ex Stand
ExdIIBt4  /  IECEX  /  A-TEX
Weight
1100kg
1350kg
1650kg
1800kg
Dimension
1750×860×1500mm
2000×1000×1670mm
2250×1330×1650mm
2400×1500×1850mm
Product Photograph
TR Solids Control is a professional manufacturer of centrifugal pumps. The sand pump has passed the US API certification and ISO9001 certification. Welcome customers to Xi'an Tianrui Solids Control to visit and negotiate the drilling fluid sand pump business, we will provide you with the best quality after-sales service of centrifugal pums and mud processing equipment. If you are looking for a qualified supplier of centrifugal pumps, then Xi'an Tianrui Solids Control will be your best choice. If you want to know more about mud pump and other mud treatment equipment, please contact Tianrui Solids Control.
Contact us
Email: sunny@trsolidscontrol.com
WhatsApp:+86 13201722103