Tag Archives:
FLC500 Pyramid Screen
Good news! One of our old customer ordered another batch of shaker screens for their drilling needs. These are the pyramid type shaker screens to be used for Derrick FLC500 shale shaker. At present, shaker screens have arrived, and put into use. Our shale shaker screens are a part of drilling equipment used in many industries, such as coal cleaning, mining, oil and gas drilling. These screens are considered to be the first phase of a solids control system on a drilling rig. They are used to purify the liquid by removing large solids also called cuttings from the drilling fluid.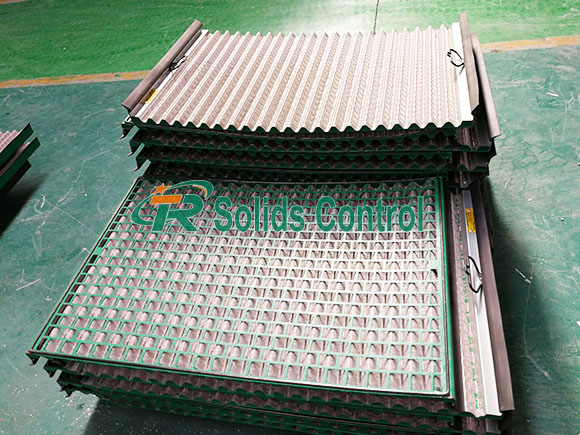 Pyramid shaker screens are shipped to our old customer.
Regarding the package of our shaker screen, it's based on certain shaker screen type. Cater for most customers' demand, we usually pack frame type screen at 1 panel per carton, while the hook strap and pyramid types will be 2 panels per carton. And the most common screen panels are packed with poly wood pallets or boxes with bundle belt. Every package will be identified by package detail for convenient quantity re-check. Packages will be seaworthy or airworthy to avoid any damage or loss.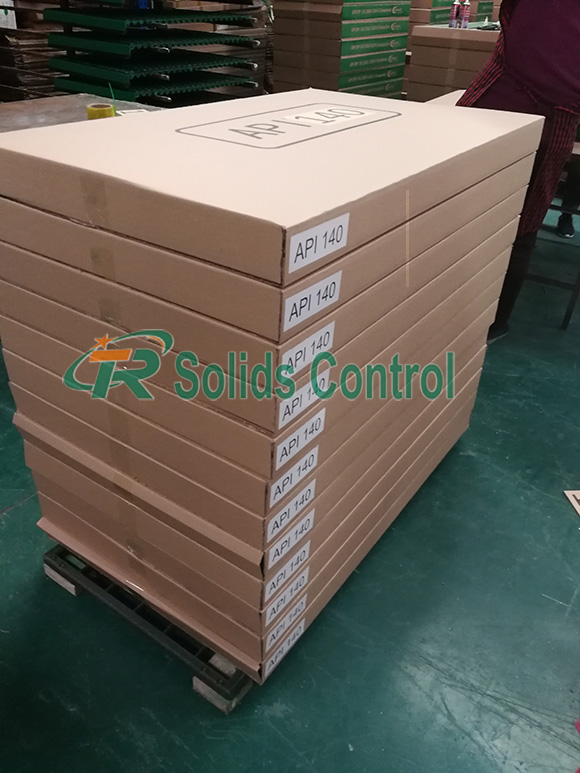 We have high-quality package for shaker screens.
Our shaker screens have been exported to many countries like Egypt, UK, US, South America, Dubai, Iraq, Australia, Thailand, Vietnam, Singapore, Africa, Europe etc. We have good price and good customer service. If you are looking for high-quality shaker screens for your shale shaker, mud cleaner, desander or desilter needs, TR Solids Control is your good choice. We are expecting to cooperate with you!
This week, TR finished the manufacturing of Derrick FLC500 series pyramid shaker screen that ordered by a Egypt client. Now the order has been ready for shipment. Manufactured as per API and ISO standard, TR shaker screens are widely used in oil & gas drilling, trenchless HDD & microtunneling, drilling waste management, etc. Besides our own shaker screens, TR also manufacture shaker screens that could be totally replaceable with many international brand like Derrick, Mi-Swaco, Brandt, Kem-tron, etc.
Derrick FLC500 series pyramid shaker screens
The size of this PMD shaker screen is 1050*697mm. They will be used for Derrick FLC500 series shale shaker. TR shaker screens are popular with more and more users. Our shaker screen mesh ranges from API 20 to API 325. We are confident with high quality and performance of our shaker screen. The reliable and stable quality is from high quality raw material, strict technique process and inspection.
PMD Screens are in Wooden Box Packaging
Are you finding a stable supplier of shaker screen? Please feel free to contact TR Solids Control for any demand or question. Customer satisfaction is our highest pursuit. Meanwhile, we supply solid control equipment such as mud agitator, shale shaker, mud cleaner, desander, desilter, centrifugal pump, shear pump, decanter centrifuge, flare ignition device, jet mud mixer, vacuum degasser, etc. Contact with us for free quote!