Xi'an TianRui TRZCQ270 Vacuum Degasser to Qingdao Port
The TRZCQ270 vacuum degasser manufactured by Xi'an TianRui has arrived at Qingdao Port.
Vacuum degasser is mainly used to remove small bubbles less than 0.8mm in diameter in gas-invaded drilling fluid during drilling in oil field. It is a safe and environmentally friendly drilling fluid vacuum degasser. According to its working principle, it is also called negative pressure degasser. Vacuum degasser plays an important role in restoring the proportion of mud and stabilizing mud performance. The TRZCQ270 vacuum degasser ordered by this customer is used in the matching of foreign oil drilling site. This time the customer wants very urgently and gives us very short production time. This is the first cooperation between us and our customer.The customer is afraid that we can not deliver the goods on time and miss the shipping date. We tell the customer that we can rest assured that the matter is handed to us. Our purpose of TianRui is to — customer. Customer satisfaction is the highest pursuit of TianRui Solids Control, we only promise to do absolutely 200% of our efforts to complete, we constantly send photos to customer in the production process and inform the production progress, so that customer can rest assured until our equipment arrives at Qingdao Port safely; Customer is very satisfied with our cooperation, and express their willingness to establish a long-term with us.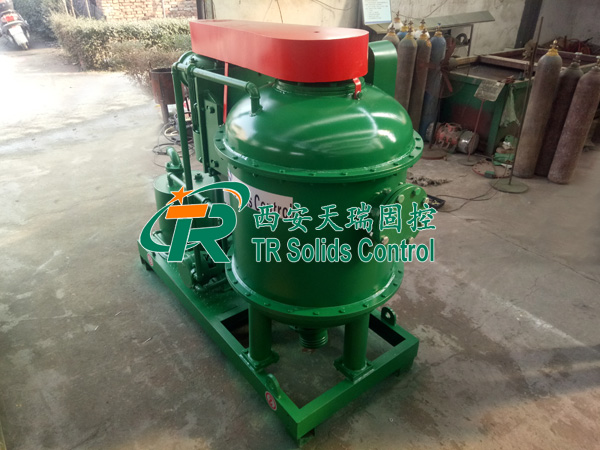 The diameter of TRZCQ270 vacuum degasser cylinder ordered by this customer is 800 mm, the processing capacity is 270 ³/h, the vacuum degree is – 0.03 ~ – 0.045 MPa, the transmission ratio is 1.68, the degassing efficiency is more than 95%, the main motor power is 22 kw, the vacuum pump power is 3 kw, the impeller speed is 870 r/min, the explosion-proof standard ExdllBt4, the weight is 1350 kg, and the shape size is 2000 mm *1000 mm *1670 mm. Besides TRZCQ270, there are also TRZCQ240, TRZCQ300, TRZCQ360 and other models, which can be used to select suitable drilling fluid vacuum degasser according to customer's requirements.
Xi'an TianRui is a professional manufacturer of solid control equipment. Our company has passed API certification, ISO 9001, ISO 14001 and QHSAS18001 certification of solid control equipment and system manufacturing enterprises. The company has a strong design, R&D team and orderly production. The company has established an experienced quality inspection team and established a perfect product quality inspection standard, the quality inspection team strictly inspects each part, and after the completion of the equipment, carefully debug each equipment, to ensure that each equipment delivered to customers can work safely and normally. Xi'an TR Solids Control will not fail everyone's recognition and trust!
If you need more information about vacuum degasser or other solid control equipment, please feel free to contact us.