Tag Archives:
pyramid shaker screen
TR Solids Control is a professional and well-known supplier of all kinds of shaker screen in China. At this week, we completed a new batch of pyramid shaker screens at our workshop. Now they are ready for shipping to European. What's more, they are along with wedges of Mongoose screen. All of these spare parts will install on Swaco shale shaker in client's oil drilling field.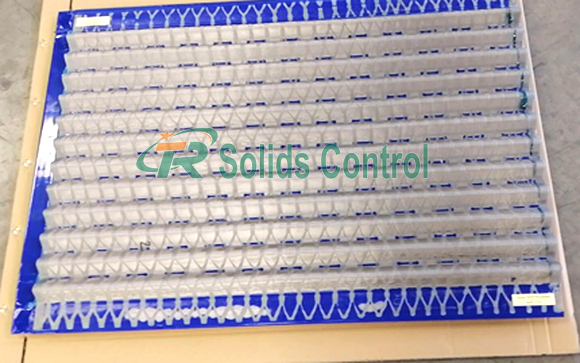 VSM 100 replacement shaker screens are ready for shipment.
The size of this PMD shaker screen is 920*635*28mm. They will be used for Swaco VSM100 shale shaker. TR shaker screens are popular with more and more users. Our shaker screen mesh ranges from API 20 to API 325. We are confident with high quality and performance of our shaker screen. The reliable and stable quality is from high quality raw material, strict technique process and inspection.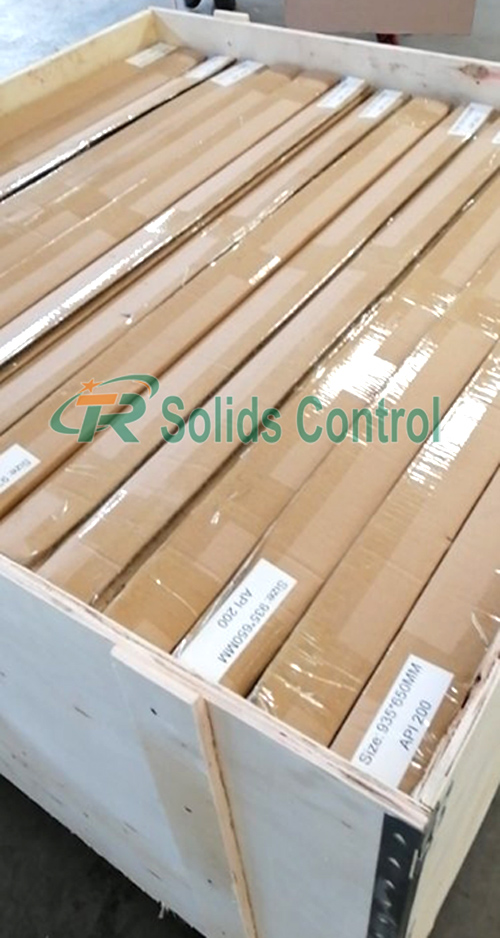 PMD shaker screens packing.
Are you finding a stable supplier of shaker screen? Please feel free to contact TR Solids Control for any demand or question. Customer satisfaction is our highest pursuit. Meanwhile, we supply solid control equipment such as mud agitator, shale shaker, mud cleaner, desander, desilter, centrifugal pump, shear pump, decanter centrifuge, flare ignition device, jet mud mixer, vacuum degasser, etc. Contact with us for free quote!
Pyramid shale shaker screen is named by its special pyramid outer appearance.The main features of pyramid shaker screen made by TR Solid Control are as follows:
It is constructed by 2 or 3 layers of 304 or 316 stainless steel cloth combined together on one steel backing plate.The steel cloth is bent to like pyramid shape or wavelike and then is stuck to the steel backing plate with special glue.
Because of wavelike structure,the treatment capacity increased by 25% to 50% compared with the same specification plate screen.
The installation method of pyramid screen is just like the hook strip screen or the wedge fixing device.
The materials can be:stainless steel,plastic,steel and galvanized plate.
TRP Series Of Pyramid Screen Parameter
| | | | | |
| --- | --- | --- | --- | --- |
| Model | Model for Shaker replaced | Mesh Range | Dimension LxW(mm) | Weight(kg) |
| TRP-1 | DERRICK FLC-2000 PMD | 40-325 | 1053X697 | 6 |
| TRP-2 | DERRICK FLC500 SERIES PMD | 40-325 | 1050X697 | 7.8 |
| TRP-3 | BRANDT BL-50 | 40-325 | 635X1253 | 9.3 |
| TRP-4 | TRZS833 | 40-325 | 1080X830 | 10.4 |
TR Solid Control can provide all kinds of shale shaker screen used in oil drilling site,HDD drilling mud recycling system and other waste management systems.Shaker screen is one vulnerable parts in drilling process.TR provide large number of shaker screen to our clients with high quality and competitive price. Welcome to inquiry us about shale shaker screen or other solid control equipment.
Contact:  Mark
Sales office:No.10 West of North 2nd Ring Road Xi'an City.
Manufacture: No.60 Caotang Industry Zone Huxian County Xi'an City.
Tel:+86-29-86332919
Call:+86-13186019379
What's App:13186019379
E-mail: mark@trsolidscontrol.com
Web: www.chinasolidscontrol.com